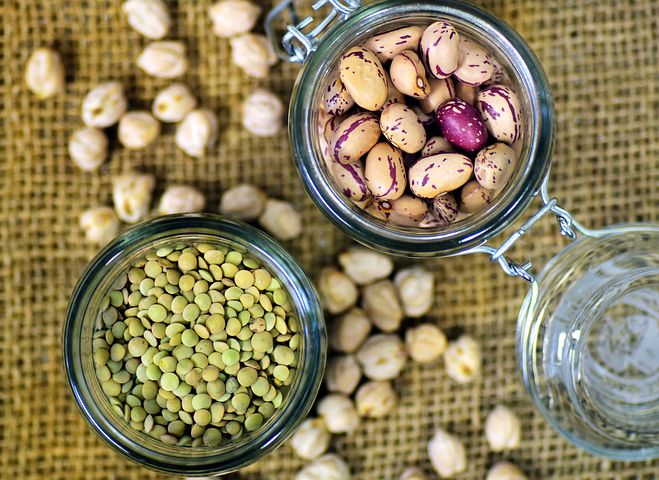 Publié le Friday 24 January 2020
Are green proteins effective for weight loss?
Food riche in vegetable proteins are: lentils, peas, squash, rice, soy, hemp…
Extracted from these plants, green protein powders concentrate between 60 and 80% of proteins.

Plesbicited vegetable proteins
Since 2017, the references based on vegetable proteins have been multiplied by 2.
This, due to a high demand from consumers which drives innovation and development.
In fact, 39% of French people say they are flexitarians. While the soy protein market could reach 100 billion euros in 2029
Currently, the most used vegetable proteins are wheat, although it has been falling for 2 years, as well as soybeans. Peas have been booming since 2019 with lupine. Then come vegetable proteins from various sources: rice, hemp, sunflower, squash, coconut … and spirulina.

Plant-based proteins to slim
If a protein-rich diet promotes weight loss and stabilization, does the protein source influence the benefits of a slimming diet?
A recent study shows that a high-protein diet based on vegetable proteins from soybeans leads to weight loss and fat loss identical to a high-protein diet without soy proteins ( Obes Sci Pract. 2018 May ).
On the other hand, intake of vegetable proteins improves insulin resistance, body composition with reduction of fat free mass ( Nutr Diabetes. 2018 ).
Finally, in the stabilization phase, the increase in the proportion of vegetable proteins at the expense of animal proteins, is shown to be beneficial both in terms of maintaining lost pounds and blood pressure (Nutrients. 2017) .

In Practice

How to integrate vegetable proteins in your high protein diet?
Slimpack has developed a range of 100% high protein preparations based on vegetable proteins for each meal and snack of the day.
Breakfast > drink & cake
– vegan cocoa drink
– chocolate mug cake
– ice tea with spirulina
– pure vegetale proteins: soy, pympkin, pea
Lunch & Dinner > savory instant foods
– vegan vegetable soup
– lentils with turmeric soup
– high protein pasta
Snacking > green snacks
– vegan peanut bar
– herbs crackers
– pure crackers

A vegan high protein diet just like you
Slimpack supports and advises you to create an innovative and effective vegan slimming program.